Adverb.Digital Becomes a Certified Semrush Agency Partner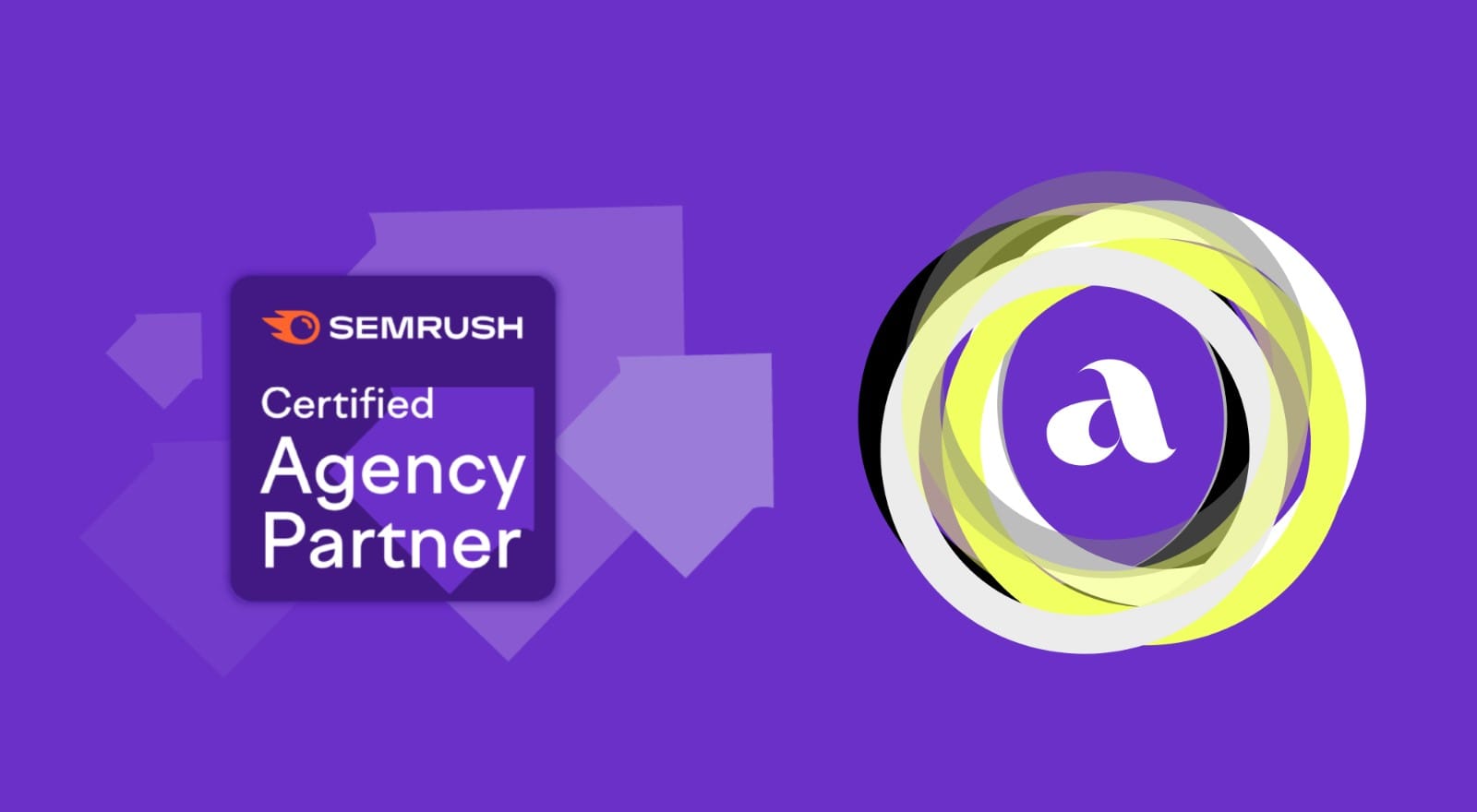 Adverb.Digital is excited to announce that we are now a Certified Semrush Agency Partner! This makes us one of only eight agencies in New Zealand to have this certification so far. The partnership shows how skilled and experienced our team is at providing high-quality digital marketing solutions. But what excites us the most is the opportunity to expand on the powerful Semrush features to help our clients achieve their digital marketing goals. Being a Semrush Certified Agency Partner gives us more tools to help us give our clients great digital marketing solutions that deliver great returns on their investments.
What is Semrush, and Who is a Semrush Agency Partner?
Semrush is a leading SEO (search engine optimisation) platform that provides insights into a wide range of digital marketing channels and is one of the most powerful digital marketing platforms available today. It has a lot of tools and features that businesses can use to improve their online presence and get great results. Here are a few ways we use Semrush to improve your digital marketing strategies;
Quality keyword research: Semrush is a keyword research tool called Keyword Magic Tool that helps you find and target the best keywords for your website.
Organic traffic data: Semrush provides insights into your website's traffic, backlinks, and keyword performance to help you improve your site strategy.
SEO website audits: Semrush's Site Audit function identifies technical and SEO issues and provides solutions for continuous improvement.
Templates and content ideas: Semrush's content template gives you related keywords and phrases for high-performing content plans.
Improved lead generation: Semrush helps collect data to generate leads, and our team uses that data to develop in-depth digital strategies.
Fill content gaps: Use Semrush to identify gaps in your competition's strategy and capitalise on opportunities to promote your content.
Semrush is a very powerful tool, but without the right knowledge, it may be hard for businesses to use it to its full potential. Thankfully, one of the benefits of using Semrush is the ability to work with a Certified Semrush Agency Partner. But what does it mean to be a Certified Semrush Agency Partner, and why should businesses consider working with one?
A Semrush Certified Agency Partner is a company that has shown it knows how to use the Semrush platform to help clients get results. For an agency to become a Semrush Agency Partner, it must undergo rigorous training on using Semrush's tools and features. This includes passing the Semrush Certification Exam, which checks how well an agency can use Semrush to create targeted digital marketing campaigns.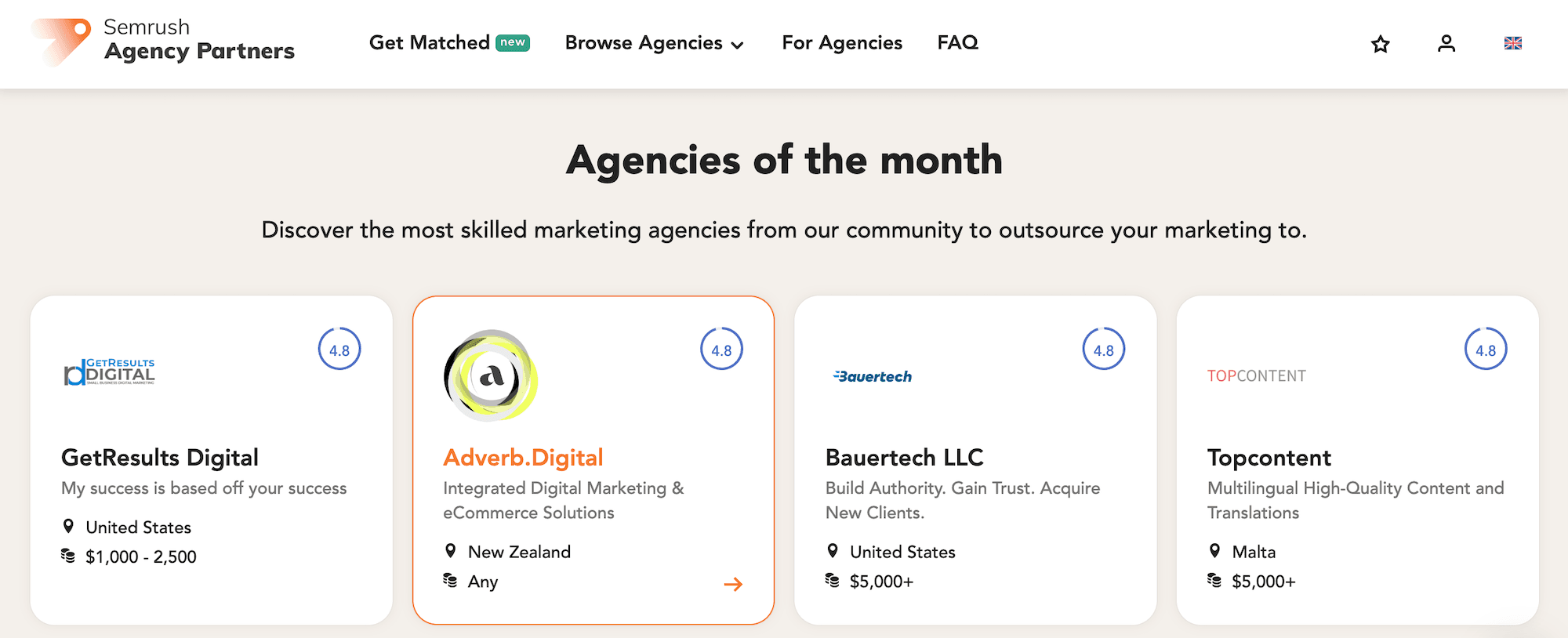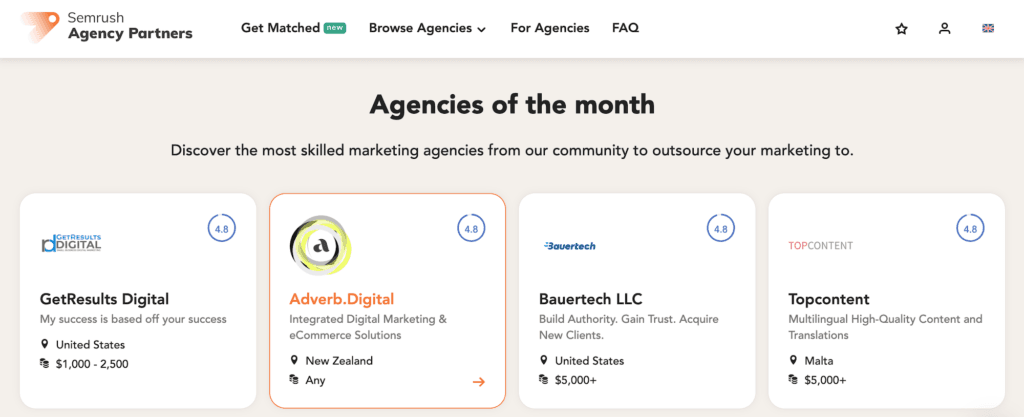 5 Reasons to Work With a Semrush Agency Partner Like Us
Here are five reasons businesses should consider working with a Semrush Agency Partner like Adverb.Digital;
1. Expertise and Experience
A Semrush Certified Agency Partner knows and has worked with the Semrush platform in a lot of different ways. They understand how to use the platform's tools and features to drive results for clients and can provide valuable insights into a wide range of digital marketing channels, including SEO, paid media, content marketing, and social media. By working with a Semrush Agency Partner, businesses can leverage their knowledge and experience to give their digital marketing efforts a competitive edge.
2. Access to Advanced Semrush Features
Semrush offers a wide range of advanced features that can be incredibly powerful when used correctly. However, these features can also be complex and difficult to use for businesses that are not familiar with the platform. By working with Semrush Agency Partners, businesses can get access to advanced tools like site audits, keyword tracking, and competitor analysis. These tools can help businesses improve the performance of their website and outrank their competitors.
3. Cost-Effective Solution
It can be expensive for small businesses that don't have the resources to hire an in-house team to handle digital marketing. By working with a Semrush Agency Partner, a business can get access to a team of experts without having to pay to hire and train them. This makes it a cost-effective solution for businesses of all sizes, from small startups to large enterprises.
4. Improved ROI
Getting a good return on investment (ROI) is one of the main goals of any digital marketing campaign. Businesses can improve their return on investment (ROI) by working with a Semrush Agency Partner to create campaigns that reach their target audience and turn leads into customers. Semrush Agency Partners can help businesses optimise their campaigns by providing valuable insights into their website's performance, identifying areas for improvement, and developing targeted strategies that drive results.
5. Customised Strategies
Every business is unique, and there is no one-size-fits-all solution to digital marketing. A Semrush Agency Partner can work with businesses to develop customised strategies tailored to their specific needs and goals. Businesses can achieve better results and improve their ROI by taking a personalised approach to digital marketing.
By working with a Semrush Agency Partner, businesses can access this expertise and a wider range of services than what is obtainable at most typical SEO companies. This can help them reach their digital marketing goals faster. If you want to improve your online presence, drive more traffic to your website, and increase conversion rates, consider working with a Semrush Agency Partner like Adverb.Digital to help you achieve your digital marketing goals. Give us a call today.
Never Miss a Thing!
Subscribe to our blog for the latest expert tips and digital marketing resources.