What is Social Listening? Expert Guide with Examples, Benefits & Tools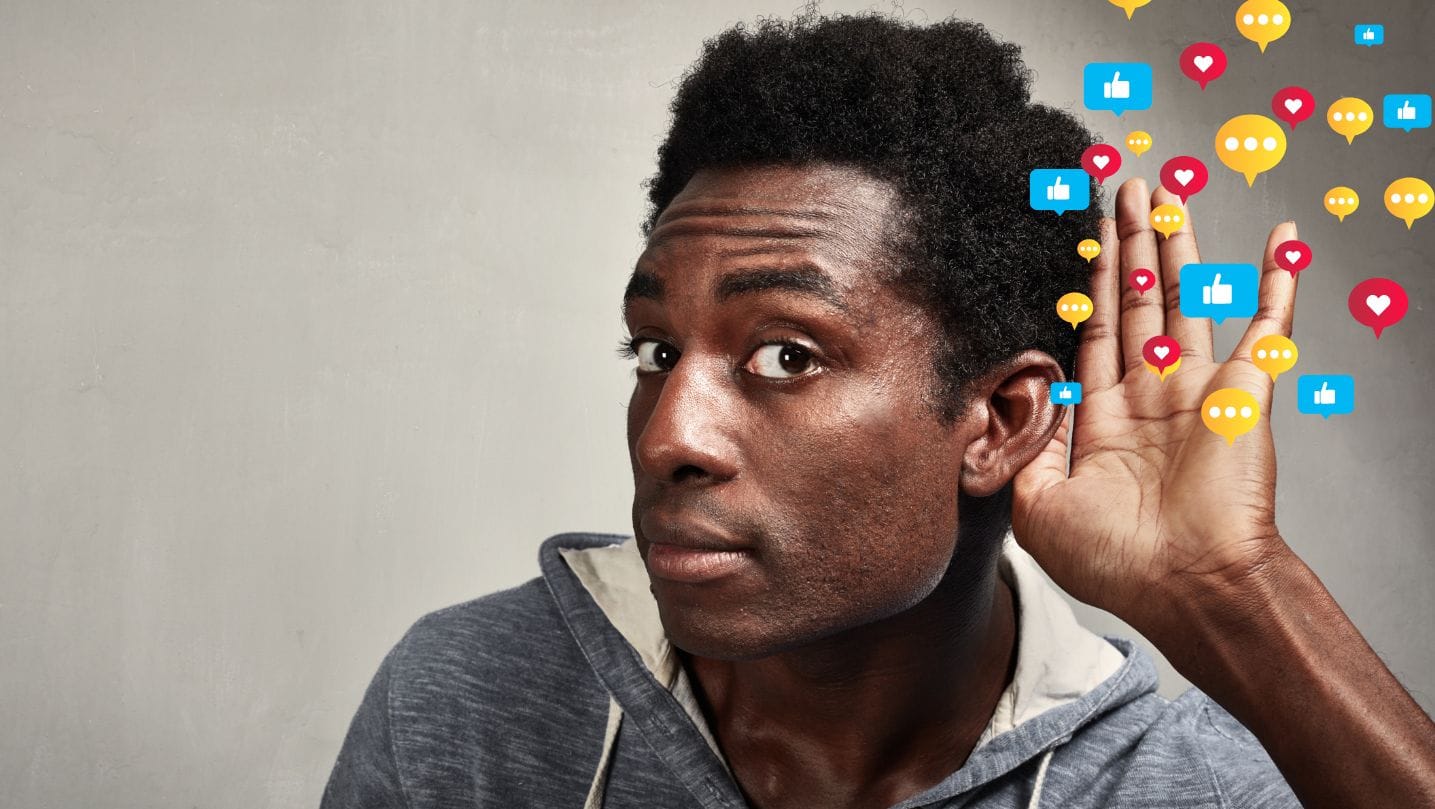 Social media has woven itself into every fabric of our society, influencing how we connect, learn and engage with the world around us. People intuitively use social media to voice their opinions and talk about their experiences, making it one of the most powerful means for businesses to connect with and engage their audience.
"Social media is the ultimate equalizer. It gives a voice and a platform to anyone willing to engage."

Amy Jo Martin
But social media is a double-edged sword. While it offers unprecedented engagement with customers, it also exposes businesses to public criticism and requires them to respond promptly and appropriately to manage their online reputation. This makes "social listening" an important tool for brands that intend to take control of their reputation and engage meaningfully with their target market. So, what is social listening?
Example: Between Alix Earle, Booking.com and Airbnb
Before we delve into the definition of social listening, allow me to set the stage with a fascinating recent event that beautifully illustrates the importance of this topic.
A popular social media influencer Alix Earle, who boasts a following in excess of eight million on TikTok, found herself unexpectedly without accommodations in Italy at midnight. This predicament arose due to a non-existent property she had booked for herself and 11 others via Booking.com.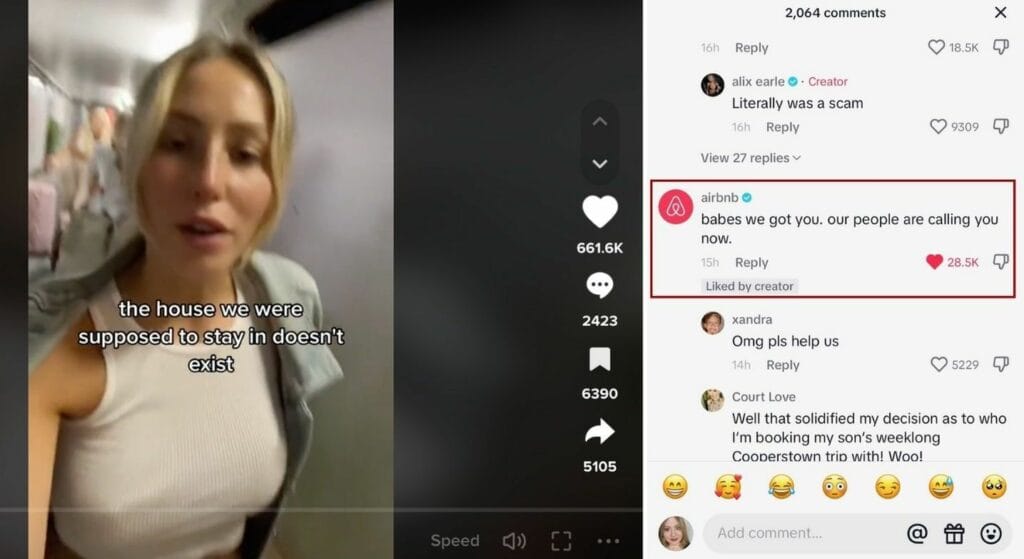 As you would expect, Earle took to her widely followed TikTok account to shed light on what she dubbed a "fraudulent act," revealing her plight to her legion of followers. However, in an apparent oversight, Booking.com's marketing team either failed to respond or possibly overlooked the unfolding situation on social media. This lapse presented a golden opportunity for their competitor, Airbnb, to step in, and they did like a superhero to save the day with their "babes we got you. our people are calling you now" comment.
Earle's video documenting the ordeal has since garnered significant attention online, with over 650,000 views, 5,000 shares, and a comment thread dominated by sentiments critical of Booking.com and favourable towards Airbnb.
Airbnb's prompt response to their competitor's 'used-to-be customer' has since been circulated widely, earning them substantial free publicity and positive press. Earle's influencer partnerships typically range between $30,000 and $70,000 annually. This unexpected publicity coup represents a significant victory for Airbnb and underscores the power of social listening, which Bookings.com obviously failed to leverage.
What is Social Listening?
Social listening is the practice of monitoring and analysing conversations and references or 'mentions' relating to a brand, product, person, or any specified subject across social media and various online platforms. The objective is to gain real-time insight, track sentiment, and evaluate people's perceptions.
Therefore social listening is an essential tool for businesses that want to be in the know, 'control the narrative,' engage with their audience and identify customers' preferences and interests. By listening to and studying online conversations, businesses can glean useful insights about themselves, their competition, target audience and are able to keep up with the latest industry trends to improve the quality of their offerings.
When negative situations ensue, having a pre-existing social listening strategy serves as a proactive measure that enables businesses to avoid resorting to half-baked and often too-late damage control efforts that could have been mitigated or prevented if identified sooner.
"It takes 20 years to build a reputation and five minutes to ruin it. If you think about that, you'll do things differently."

Warren Buffett
Key Benefits of Social Listening to Brands
Let's discuss the benefits of social listening or social monitoring to your brand.
Online Reputation Management: Social listening allows you to monitor your brand's online reputation and share of voice in real time. This is essential for maintaining a positive image in the minds of your target audience. By addressing any negative sentiment promptly, you can respond to mentions of your brand and maintain a positive image.
Controlling the narrative: By gaining early awareness, businesses can proactively address potentially damaging issues identified through social listening and extinguish minor sparks before they escalate into an uncontrollable inferno.
Deeper Understanding of Your Target Audience: Social listening provides valuable insights into your target audience, including their interests, preferences, and pain points. This information can then be used to inform your strategy and create more targeted campaigns or even develop better products or services.
Improved Customer Experience: Social listening allows you to monitor online conversations related to your brand and address any customer service issues in real time. You can build trust and improve customer loyalty by promptly addressing customer service issues with empathy.
Competitive Advantage: By tracking the talk about your brand and your competitors, you can gain insights into what is working well and where there is room for improvement. Using this data, you can create a plan to monitor your brand's online presence and stay ahead of other businesses.
Better Measurement of Campaigns Impact: You can more accurately analyse the effects of your marketing and PR efforts by using social media monitoring to determine what resonates with your target consumers. Use the data obtained to make informed decisions for future activities.
How to Make the Most of Social Listening
Although social listening is an essential tool, it's worth noting that it's just one part of a larger digital strategy. Effective customer engagement and reputation management requires more than just listening—it involves understanding, responding, and adapting to consumers' needs and feedback. Here is how;
Choose the right tools. To set up your social listening and get the most out of it, choosing the right tools for your needs is essential. Several social listening platforms are available, each offering different levels of detail and reach. Consider factors such as the scope of your monitoring, your budget, and the level of detail required, and choose the platform that best suits your needs.
Understand your target audience. Once you have chosen a social listening tool, you must set up keywords and hashtags. These keywords and hashtags should be related to your brand, competitors, and industry. This will enable you to monitor the online conversations surrounding these topics. This will help you stay informed about the latest industry trends and ensure that you monitor the most relevant conversations.
Set up keywords and hashtags. Once you have chosen a social listening tool, the next step is to set up keywords and hashtags to monitor. These keywords and hashtags should be related to your brand, industry, and competitors. For example, if you are a clothing brand, you might want to monitor hashtags such as #fashion and #style and keywords related to your brand and competitors.
Analyse the data. This information can then be used to inform your social listening strategy and ensure that your brand stays ahead of the competition. This information can then be used to inform your marketing campaign and help your brand's overall online reputation management.
Respond to mentions. One of the most critical aspects of social listening is responding to mentions of your brand. Responding promptly and professionally is essential when someone mentions your brand on social media where necessary. This shows that you are actively listening and engaging with your audience, which can help to build trust and loyalty.
Monitor your progress. Monitoring your progress and tracking your results is essential to ensure that your social listening efforts have the desired impact. This can involve tracking metrics such as engagement rates, sentiment analysis, and conversion rates. Regular monitoring will help you make informed decisions about where to focus your efforts and make any necessary adjustments to your strategy.
Use the data to inform your strategy. Finally, using the data gathered through social listening to inform your overall brand strategy is essential. This data can help you create more targeted content and campaigns, improve customer service, and stay ahead of the competition.
Popular Social Listening Tools
Using suitable social listening tools would help you gather insights, track mentions, and respond to consumer feedback by monitoring and analysing social media and online discussions. There are various high-quality choices available.
Each of these tools has its own unique features and functions, so you need to think about your needs and goals to figure out which one is best for you.
It's a Marathon, Not a Sprint
It's important to note that social listening is not a one-time thing but an always-on process that never stops. Businesses must routinely look at and analyse social media data to help them keep up with the latest industry trends and customers' needs.
See also Benefits and 8 Proven Strategies for Online Reputation Management.
Like the story of Booking.com and Airbnb highlights, social listening is a vital component of online reputation management and a must-have for businesses that want to build a good reputation with the people they want to do business with. This will help them stay ahead of the competition, find opportunities, and predict customers' wants. It will also let them respond quickly to customer feedback and find ways to keep their audience interested and feeling valued.
Never Miss a Thing!
Subscribe to our blog for the latest expert tips and digital marketing resources.